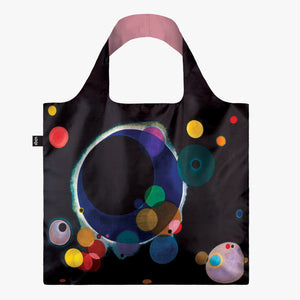 LOQI
SEVERAL CIRCLES RECYCLED BAG || WASSILY KANDINSKY
Regular price
$15.00
$0.00
Unit price
per
• reusable shopping bag from LOQI
• dimensions: 50 x 42 cm (19.7" x 16.5")
• carries up to 20 kg (44 lbs)
• water resistant 
• made of 100% recycled taffeta certified by GREEN CIRCLE® 
• certified STANDARD 100 by OEKO-TEX®


Reusable shopping bag from the Berlin-based accessories company LOQI.
LOQI are not only committed to making high-quality, eco-friendly and affordable bags, they also collaborate with artists from around the world to bring you a wide range of the most original designs.
Move into Kandinsky's cosmos and otherworldliness of harmonious circles with this recycled tote bag. Kandinsky believed that art was closely connected to music. He was inspired to give up his law career in part by a production of Wagner's "Lohengrin" at the Bolshoi Theater. "Violins, deep basses and especially the wind instruments represented for me the full force of the twilight hour; in my mind I saw all my colours, they were all there, in my mind's eye. Wild, almost crazy lines, were being painted in front of me." © Solomon R. Guggenheim Museum
LOQI is certified CO2 Neutral by Planetly.
---