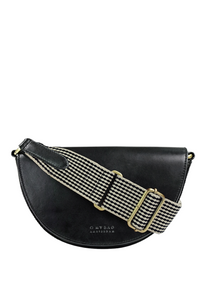 O MY BAG AMSTERDAM
LAURA BAG || BLACK CLASSIC LEATHER
Regular price
$234.00
$0.00
Unit price
per
• handbag by O MY BAG AMSTERDAM
• comes with two adjustable add-on straps, one made of full leather and GOTS-certified black-and-white fabric strap
• strap length: black and white checkered strap: 88 cm - 134 cm; full leather strap: 91 cm - 106 cm
• one main compartment with an insider zipper pocket
• material: leather
• dimensions: length: 27 cm, width: 10 cm, higth: 16 cm
• made in India
LAURA BAG by O MY BAG AMSTERDAM at HUG Lifestyle in Ipswich, UK.
The LAURA BAG embraces soft clean lines for timeless elegance. This semi-circle shaped bag comes with two adjustable add-on straps, one full leather and one with a GOTS Certified Checkered Webbing Strap.
She's as versatile as can be – LAURA works with every look, for every occasion! With plenty of room for your go-to essentials, she's a geometric beauty with a top zipper fastening that will keep your belongings safe and organized.

This LAURA BAG is part of the brand's Classic Leather collection, and it has a classy, yet modern and sophisticated look. It is characterized by its shining surface and a smooth and gentle feel.
Premium quality sustainable leather is tanned without the use of harmful chemicals and has no synthetic top finish. Because of the open structure scratching will occur and irregularity in color and texture are part of this leather. The leather will develop over time and will get even better looking the more you use it! We help our customers to take good care of their purchase. With a little love and care your bag will last for years. 
---