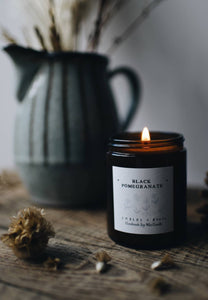 Embers & Roots
BLACK POMEGRANATE SOY CANDLE
Regular price
$19.00
$0.00
Unit price
per
• hand-poured candle from EMBERS & ROOTS
• 100% soy wax
• plastic free and vegan
• 180 ml (diameter 67 mm, height 85 cm)
• burn time up to 36 hours
• made in the UK
Rich, dark berries twist around the kindling fragrance of cedarwood and oak smoked soft leather.
The juicy-tart aroma of the arils is softened with the warm-hearted odour of scraped fresh vanilla pod.
The floral notes of the English rose petals float lightly alongside the ripe berries to create truly deep, multilayered aroma.
Top Notes: fresh pomegranate
Mid Notes: english rose, cedarwood
Base Notes: soft leather, rich spices, vanilla pod   
The first burn is important, burn for approximately 4 hours or until the wax reaches a full melt pool. Trim your wick to 5mm before each burn. Ensure your wick is centered and standing straight before you light.
Allergy information: Hydroxycitronellal, Farnesol, Eugenol, Farnesol
Safety Information 
Never leave a burning candle unattended.
Burn out of reach of children & pets. Leave at least 10cm between burning candles.
Protect your surfaces from heat or dripping wax. Ensure the area is free from items that can catch fire.
The container may get hot during use. No draughts. Keep your candle wax free from debris & dust – including matches – to prevent flaring.
Snuff out if the flame becomes enlarged or the container too hot. Do not allow the flame to touch the glass. Candles may produce soot. Extinguish when there is 6mm of wax remaining.
---